Manual Download: 

Brand New "KFI" Universal 2" Receiver designed to work independently or with the purchase of the below KFI winch mounts:
Polaris ATV Generation 4 Winch Mount #100430
Yamaha Rhino Winch Mount #100550
Polaris Ranger Winch Mount #100560
Polaris ATV GEneration 2 Winch Mount #100630
Kubota RTV1100 Winch Mount #100750
Kubota RTV400ci or RTV500 Winch Mount #100800
Kawaski Mule 4000 Series Winch Mount #100845
John Deere XUV 625i / 825i / 855D Winch Mount #100860
Honda Pioneer 500 Winch Mount #101215
Honda Pioneer 700 Winch Mount #101150

works with winch installed
requires longer reciever hitch to clear winch rollers

Kawasaki Mule Pro FXT Winch Mount #101230
Picture below is mounted to Kawasaki Mule winch mount for reference.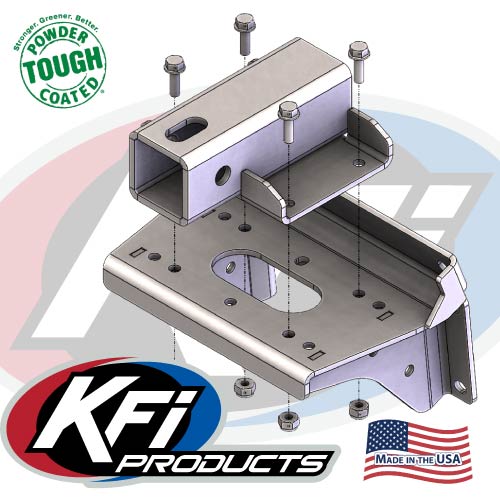 Specifications:
100% MADE IN USA.
Constructed of 3/16" steel.
Unlike all other competitors, our products are metal bead blasted before they are powder coated for the best possible finish prep.
Powder coated black for supreme durability.
Includes upper hook attach hole.
Complete installation instructions included.
No mounting hardware required.
Satisfaction guaranteed.